Mercure Melbourne Southbank
Mercure Melbourne Southbank is the perfect hotel for the epicurean traveller. Just 601m from Southbank Promenade on the Yarra River, the popular Bourke Street Mall shopping area is 10 minutes' walk away and 15 minutes' walk from Crown Casino and Flinders Street Station is just 350 m away. The hotel has a 24 hour front desk and all rooms are air conditioned, feature a kitchenette and cable TV plus a safe and WiFi.
Event Rooms:

3

Guest Rooms:

275

Largest Capacity:

80

Largest Room Size:

79m2

ALLSAFE Approved
Be our guest in one of the 275 hotel rooms, thoughtfully designed with smart TV's, individual climate control air conditioning, a work desk, a refrigerator, tea and coffee making facilities, and comfortable beds for a good night's sleep.
The hotel boasts a 24-hour reception desk where our team can offer friendly advice about the local area, to help you make the most of your time in this beautiful city.
Guests can also enjoy modern Australian meals and refreshments in the hotels restaurant and bar.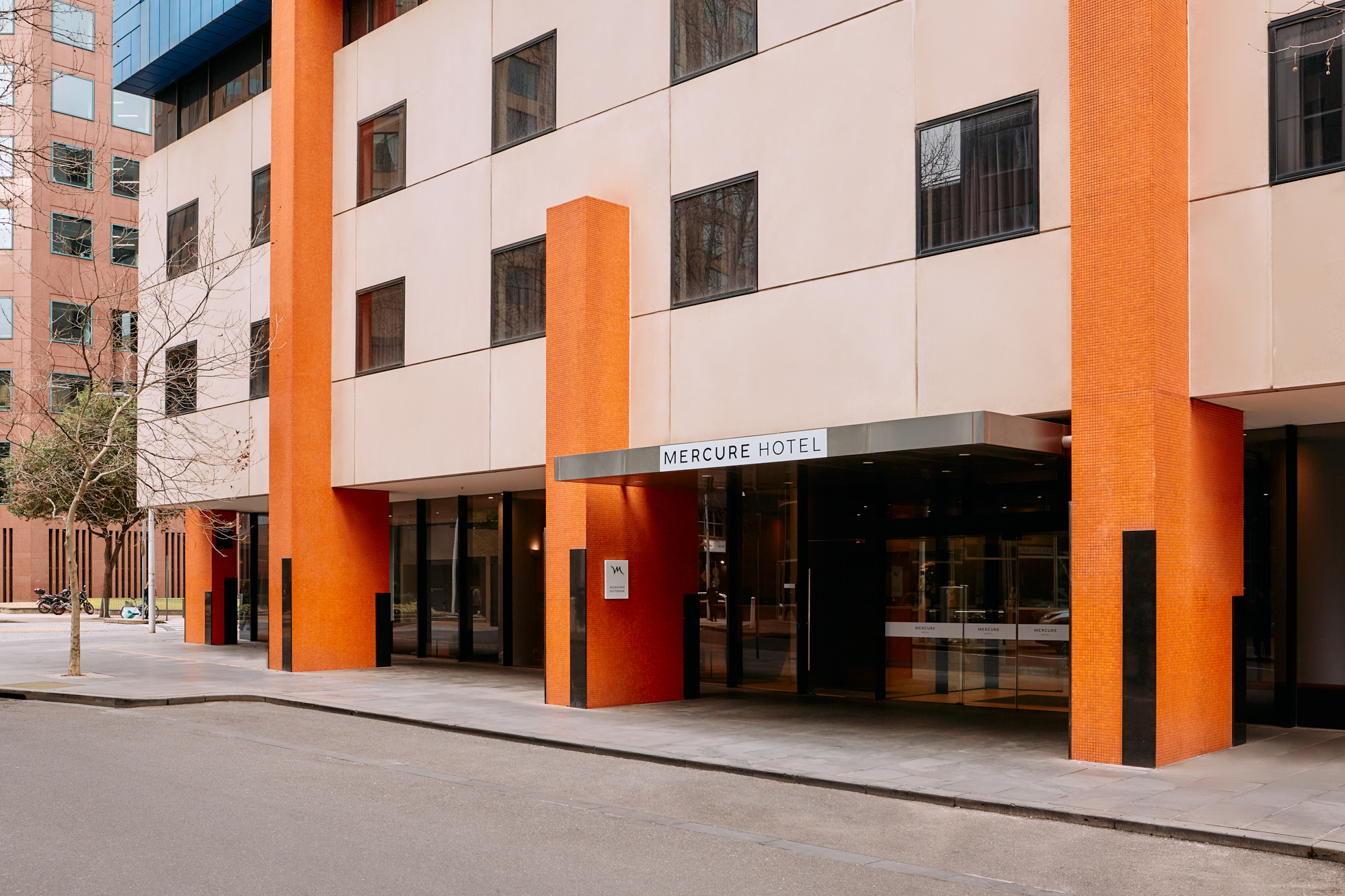 EUREKA 1

Featuring a meeting room that can cater up to 45 attendees, Mercure Melbourne Southbank is the perfect venue for your intimate meetings.

Area:

23m²

Ceiling Height:

2m

Capacity:

45

EUREKA 2

Featuring a meeting room that can cater up to 16 attendees, Mercure Melbourne Southbank is the perfect venue for your intimate meetings.

Area:

23m²

Ceiling Height:

2m

Capacity:

16

EUREKA ROOM 1 AND 2

Bathed in natural light with capacity of up to 70 delegates

Area:

79m²

Ceiling Height:

0m

Capacity:

80
Room
Capacities
Area
Ceiling
Height
Banquet
Boardroom
Classroom
Theatre
U Shape
EUREKA 1
23m²
2m
-
16
22
-
16
EUREKA 2
23m²
2m
-
8
8
-
-
EUREKA ROOM 1 AND 2
79m²
0m
-
28
36
-
30
2 ZP BEDS SUP

Superior room with 1 King bed or 2 Single beds plus Sofa bed. Superior room with 1 King or 2 Single Beds plus Sofa Bed This large room features a kitchenette with microwave, fridge, plates, cutlery and kettle, an in room safe, desk, air conditioning, bathroom amenities with hairdryer, WiFi, and TV.

Bed Type:

Adult Occupancy:

4

Child Occupancy:

3

1 QN BED STD

Standard room with 1 Queen size bed. Standard room with 1 Queen size bed This large room features a comfortable queen bed, kitchenette with microwave, fridge, plates, cutlery and kettle, an in room safe, desk, air conditioning, bathroom amenities with hairdryer, WiFi, and TV.

Bed Type:

Adult Occupancy:

2

Child Occupancy:

1

2 SG + 1BK BEDS STD

Standard Accessible Room with 2 Single beds. Standard room with 2 Single Beds with accessible bathroom This large room features a kitchenette with microwave, fridge, plates, cutlery and kettle, an in room safe, desk, air conditioning, bathroom amenities with hairdryer, WiFi, and TV.

Bed Type:

Adult Occupancy:

2

Child Occupancy:

1

2 QN BEDS SUP

Family room with 2 Queen size beds. Family Room with 2 Queen Beds This room features a kitchenette with microwave, fridge, plates, cutlery and kettle, an in room safe, desk, air conditioning, bathroom amenities with hairdryer, WiFi, and TV.

Bed Type:

Adult Occupancy:

4

Child Occupancy:

3

1 QN BED + SOFA SUP

Superior room with 1 Queen bed and 1 Sofa bed. Superior room with 1 queen and 1 sofa bed This large room features a kitchenette with microwave, fridge, plates, cutlery and kettle, an in room safe, desk, air conditioning, bathroom amenities with hairdryer, WiFi, and TV.

Bed Type:

Adult Occupancy:

3

Child Occupancy:

2

2 SG BEDS + SOFA SUP

Superior room with 2 Single beds and 1 Sofa bed. Superior room with 2 Single beds and 1 sofa bed This large room features a kitchenette with microwave, fridge, plates, cutlery and kettle, an in room safe, desk, air conditioning, bathroom amenities with hairdryer, WiFi, and TV.

Bed Type:

Adult Occupancy:

3

Child Occupancy:

2