Retail Risk - Sydney 2024 takes place on 29th February at Accor Stadium.
We are pleased to offer an accommodation discount of 10%* to all guests attending the Retail Risk 2024 Event.
The discount applies for stays between 27 February – 01 March 2024 only. If you wish to stay outside of these dates, kindly contact our reservations team on 02 8762 1111 to request a quote.
The offer is valid at Pullman, Novotel and Ibis Sydney Olympic Park. The hotels are conveniently located and at walking distance to Accor Stadium. Choose your preferred hotel in the precinct.
Pullman Sydney Olympic Park
Pullman Sydney Olympic Park offers 218 5-star rooms with sweeping views of surrounding parklands and Accor Stadium. Suites also feature spa baths and Executive Lounge access. Rooms include a TV with Foxtel channels, air conditioning, a minibar, 24 hour in-room dining, and a large modern ensuite with luxury bathroom amenities and a separate shower and bath. The hotel is located directly opposite Novotel & Ibis Sydney Olympic Park.
Novotel Sydney Olympic Park
Novotel Sydney Olympic Park offers 4.5 star accommodation with 177 contemporary rooms, including Superior, Balcony Rooms and Superior Spa Suites. Guests can enjoy wired and WIFI Internet access, and a TV with Foxtel channels. Each room is tastefully appointed, featuring modern décor, a spacious ensuite and a large work desk. Many rooms feature striking parkland or city views.
Ibis Sydney Olympic Park
ibis Sydney Olympic Park offers 3.5 star accommodation with 150 stylish guest rooms. Guests staying at the ibis hotel can enjoy a range of in-room amenities, including air-conditioning, WIFI, TV with Foxtel channels, in-room iron and hairdryer, coffee and tea making facilities, and a modern private ensuite. As well as two restaurants, two bars, and conferencing spaces shared with the adjacent Novotel Sydney Olympic Park hotel.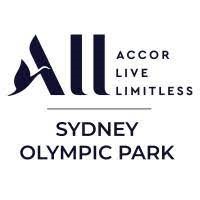 Accor Sydney Olympic Park Hotels
Location:

sydney olympic park

Event Rooms:

9

Largest Capacity:

510

Largest Room Size:

414m²

Guest Rooms:

177

Location:

sydney olympic park

Event Rooms:

9

Largest Capacity:

510

Largest Room Size:

410m²

Guest Rooms:

150

Location:

sydney olympic park

Event Rooms:

5

Largest Capacity:

140

Largest Room Size:

156m²

Guest Rooms:

218